Phrase dating agency cyrano ep 5 quickly answered
Posted in Dating
No pressure or anything. Audio clip: Adobe Flash Player version 9 or above is required to play this audio clip. Download the latest version here. You also need to have JavaScript enabled in your browser. We pick up at the high school, where Operation: Idol Crush is supposed to be heading toward its happy ending. But things appear to be skidding sideways with our mastermind Byung-hoon dashing off to catch up to that first love he never got over, Yi-seol. Meanwhile, Arang makes a last-ditch confession to Se-kyung, throwing a wrench into the works.
Byung-hoon looks less thrilled at the reunion than Yi-seol, who lights up at the sight of him. Min-jung clocks the tension and backs away slowly, leaving them to some privacy.
Out in the hallway, she sees reporters peering into the theater. The reporters push their way inside to get their money shot of the kissing couple. They walk out muttering about how fast kids are these days spoken like an old fogey, no? She gives him a kick in the shin, then runs out on the brink of tears. Idol boy Ho-yeol finds her outside, and though he sort of acknowledges her, he continues on his quietly dejected way.
Min-young finds Arang in the theater and guesses that he really does like Se-kyung, but played it the opposite way for the sake of the mission, giving the twist another twist. So the kiss was real and impulsive, but the brush-off following it was for the team. Hearing that Byung-hoon missed it because he got distracted, Arang asks her to keep it a secret.
He insists that it was just a mistake. She points out that mistakes born of sincere feelings are no accident. Without warning, Yi-seol whirls around and initiates a game of rock-scissors-paper.
Yi-seol asks if their Cyrano Theater is still going strong. I love seeing the cocky bastard so off-kilter. She recognizes Arang, who is the sole remaining member of the old troupe, and assumes that Min-young is one of the current members. Then Yi-seol notices the space where her marionettes used to sit, which Byung-hoon packed away the other day.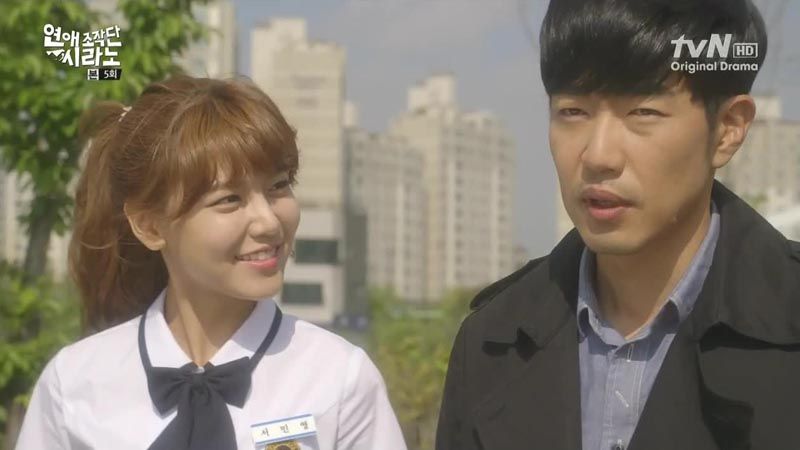 Byung-hoon offers to bring them out again but she declines, adding that they were gifts from Do-il. Hm, was high school buddy Do-il the one who died?
TAEMIN MUSICAL??Fast night ceremony??(ENGsub)
The debt collectors come by again, and to preserve the ruse Byung-hoon introduces them as more troupe members whose gangster appearance is a product of Method acting. The gangsters head next door to report the new arrival to their hyungnim, and Seung-pyo sees them walk by-and recognizes Yi-seol by name. Hello, plot thickener. Byung-hoon sees her off, and she hands him an envelope that Do-il had wanted to give to him personally, which bears the Cyrano logo.
Calling him Sherlock, she tells him to feel free to ask her anytime he needs help. In turn, he tells her she can come by anytime since Cyrano is part hers.
Min-young pops up after Yi-seol leaves, having followed them out. Totally not spying, are we? She says in her chipper way that she was right and that was his first love and basically annoys him batty.
Should they persuade the boss to give up Operation: Idol? I love that Moo-jin just sits through it stone-faced, clearly not on her wavelength.
Would he give it up to the client anyway? Min-young asks what you do when two friends fall for the same person. Is there any way to make a happy ending out of it? Also, is my Shark -influenced theory not so far-fetched after all? Byung-hoon curtly tells his friend to take it up with Yi-seol and rides away. Caught between the two boys, Se-kyung is lost in her dilemma. Speaking of whom, Ho-yeol is in a terrible mood at rehearsal and messes up his dances.
Oh no, it turns out he had seen the kiss after all-after running out of the theater to evade the reporters, he had seen them through the glass doors. He punches the wall in frustration. Byung-hoon finds him here and says he ought to have punched Arang, not the wall. Ho-yeol had been trying to impress her, but Arang had gotten hit with the puck instead of her and earned her admiration.
Min-young urges Arang to take all the time he needs, offering her moral support.
Then she asks about Yi-seol oh so casuallyand hears that she was going to marry the other theater head, Do-il. Then Moo-jin informs them that the boss must have seen the video footage, which means he knows about the kiss.
Arang hangs his head. Byung-hoon joins them and first offers Arang a Cyrano business card and an employee discount, HA to have them work on the case for him. Hm, was this a test? I wonder. She calls him a coward, shrinking back after saying it. High school. She deflates.
We see Moo-jin sitting outside with the fan, creating the romantic breeze. He sees through the denial and says that he saw everything. But he still likes her. And so we begin. Er, end.
Begin the end. She suggests they count the score even, since she did kick him, and they smile. Meanwhile, Ho-yeol waits with bated breath near the alley where they had previously hidden from his fangirls.
His only instruction is to let the target make her choice. He finally speaks, telling Se-kyung that he likes her for real:. I could never like you as much as he does.
Just as your feelings have changed, what if his do? She arrives at the alley, but finds it empty. Aw, he kept it all this while? Se-kyung runs on, searching the neighborhood for sign of Ho-yeol. Moo-jin rides up to find Arang sitting alone nursing his broken heart, and gives him a shoulder to lean on. Good hyung. There he is again, sitting with a lonely cup of ramyun, head hanging.
She raps on the glass, then sticks that band-aid on the glass. It lights up his face in the most heartwarming way. The girl might have just left. Byung-hoon just replies that the guy was going to make things happen, but had to suffer a bit for it. He sinks into melancholy thoughts, and looking at that Sherlock Holmes charm triggers a flashback of when he first received it.
Min-young drops him off at a storefront, and he bursts inside where Yi-seol is at work with her marionettes.
She smiles to see it. There are poignant beats scattered throughout, which I appreciate. The outcome is important, but his comment about the kid needing a little bit of suffering along the way speaks to the process having merit as well. I like that. I also like how the Client of the Week allows the show to offer a variety of perspectives about love, which is also shown in the very different personalities running Cyrano Agency.
These kind of story-of-the-week shows have a certain procedural element to them, which can be both a positive and a negative trait. On one hand, it keeps stories short and sweet, enough to satisfy with a small dose without needing to get bogged down in too many details.
On the other hand, these clients are in and out, so when procedurals are clumsily handled they can feel like emotional drive-bys. The best procedurals use the episodic thread to shed light on its main players, which is a great framework to get our two leads arguing about their diametrically opposing views on romance.
I do like the tiny snippets we get to see of him, and the flashes of ominous glares. He turns on a dime with unnerving ease, one second being friendly and helpful to Min-young, then next clenching his jaw and shooting daggers at Byung-hoon.
Are you a mobster? Are you legally dead? Are you interested in Min-young or just amused by her, or using her? Are you friend or foe? The pacing of the show is brisk enough that we keep from sticking to one particular character or emotional beat for too long, which I consider an asset.
I want him cheeky and full of bravado, not moping. I was extremely wary of this character from promos and descriptions, because she seemed way too naive on paper and very been-there-done-that as far as dramaland heroines went.
How many more overly romantic chronic dreamers do we have to see butting heads with cynical heroes, right? And that means growth on both sides. Your email address will not be published.
I'm enjoying this as well and don't understand the wide-spread criticism it's receiving from viewers here, but oh well. To each his own, ne? My only quibble with this episode was the example of the dinner being cooked: In my view, that meal was being made for a customer.
It wouldnt have existed if not for that customer, and it belongs to the customer, NOT the cook. I have to admit I didn't get the dinner example. I also think if the dish was made for the customer it should go to him as well. I didn't get the dinner analogy as well. My problem with the scenario is that the customer doesn't know this is the best version of the dish that can be made.
He doesn't know what's he losing out if the cook just eats the dish and gives him a worse-tasting one. Ignorance is bliss?
The dinner example all depends on what the COOK's purpose of being a cook is. If the cook is cooking for his own happiness, then if eating his own dish will make him happy, go for it. If the cook is a cook for the sake of his customers, or money, or the happiness of his customers, then of course the food would go to the other person.
It makes sense guys. This is the cool thing about reading recaps and comments. I just let some things go over my head without thinking much about them I can now see how it carries a bit of weight. I busted out laughing when she totally shot down that k-drama cliche. You think i can u-turn like they do i k-dramas?!
Seung Pyo says he would eat the dish himself i. Realistically speaking, it is not possible for the chef to eat the dish and just cook another less-appetizing dish for the customer because there is only one Se Kyung. Dramas often introduce analogies such as this, using situations, and objects as symbols necklaces, potatoesband-aids etc to give the story deeper significance.
Yes you DID!!!!!! I temporarily forgot to check and see if something new was posted. I am counting on you to answer some of my questions again :- and on you to chime in as well in response to my comments, if you feel the desire to. I just love reading from you. Also, I left you a response to your comments actually two, one under my post, and the other under yours. Make sure you read them, please :- Thank you also for having my back, that was very cool, and I appreciate it See, one should never lose hope, I could be beat at being 1ston this site I hope your day is going well.
What time is it for you? It is am my time. I will start working around 6am, so I have got lots to do before then. Thanks for the recap! Loving this show! Mastar creeps me out. I don't have high expectations with Sooyoung, but she's doing a great job.
I've been googling for hours. I don't like the creating a spectacle to make love happen She was watching Arang for a long while. Then Ho-yeol confesses, runs down the street with her from some silly fans It just doesn't make sense to me. Nor do I think that that's a relationship that has any basis and that can thus last.
So did Arang really like Se-kyung, or was that part of the plan too? I'm confused. In any case, you shouldn't kiss the girl unless you mean it, especially when you know she likes you. And what's with Min-young cheering for Arang's love and then Ho-yeol sticking a plaster on a window pane is all that takes her to go "Oh, so cute" and cheer for him instead? Cutely-romantic gestures aren't love. They are meaningless unless there is a solid basis somewhere - but here there isn't.
Never mind that no plaster would stick after such a long time. Not doing it for me. I'm a bit like you. I'll still watch but by pure curiosity, not because I care for those characters. Arang did like Sekyung. When he first confessed to her, he meant it. But then his conscience kicked in and he pretended that he only kissed her to protect Ray. At the same time, before Arang's confession, Sekyung already to develop feelings for Ray, thats why she chased him to the hall, when she found out he is supposedly leaving school.
On the other hand, Minyoung was supportive of Arang. But by no means was she against Ray from getting the girl too. She found out that Arang had feelings for Sekyung, and encouraged him to go for it. However, Arang himself, didn't know the extent of his feelings for her.
Dating agency cyrano ep 5
He realises that his feelings for her could never surpass the amount of that Ray has. Minyoung who witness this, I guess, saw Arang's sincerity and maturity. Se-kyung's change of feeling still doesn't make sense to me It just feels like sudden flip-flopping after a matter of a few days when she's been watching Arang for a while. Of course, watching someone is a superficial love too, but there is just nothing to convince me that she now really likes Ray and Arang no longer.
It just feels like too little time and interaction for these things to happen. If I were here, I'd be totally confused and just run away from both boys.
Yes, Arang's feelings and the extent of them were uncertain to start with, that I'm not doubting. He still shouldn't have kissed her then. Like the right lighting and music is all that you need. I think for me Se Kyung's change of heart is pretty possible for such young love.
Currently Airing
There was a lead in from previous episode where Byung Hoon said "you called my name and I became a flower. And in my point of view, it's not really because of the confession itself, but because you start to look back and realize to add reasons to that person's actions in the past.
And somehow now those actions don't look meaningless anymore.
Cyrano Dating Agency Ep 5 Eng Sub much luck it could be the way you are presenting yourself. Be honest but not blunt. "I'm just looking to have Cyrano Dating Agency Ep 5 Eng Sub a fuck buddy" - too blunt. Try "I'm currently focused on building my career, however I would like to meet someone who would be up for drinks every once in awhile"/ Pune escorts welcomes Dating Agency Cyrano Ep 5 Youtube you into its world of pleasure Dating Agency Cyrano Ep 5 Youtube with a kind of Dating Agency Cyrano Ep 5 Youtube girls who makes you satisfied beyond the limits, this is one such a place for all of your fantasies and it will be fulfilled through the girl Dating Agency Cyrano Ep 5 Youtube / Jun 26,   Dating Agency Cyrano: Episode 10 by javabeans. Ah, time for the major complication to show up and throw our agency into a tizzy. Muahaha. Not that I haven't been enjoying the breezy romance-of-the-weeks thus far, but there was a level of emotional conflict in the inherent Cyrano premise that hadn't been integrated into the plot just yet, and really, you /5.
MY, well Frankly, I've met people who think that way too. But I still enjoy her character despite of this. To me, it looked like Ray's problem was that Sekyung refused to see him as anything besides an idol. But when the agency set up situations where she saw him more vulnerable and as a person, she started liking him. Knowing someone likes you is a powerful thing, and I think her eyes were opened to sincerity. And, of course, she's a teenager, so it's not like she has much experience in love.
As for Min Young, isn't that the point? She idealizes romance but the fact is, Byung Hoon's methods are truly more effective than the grand gestures she sighs over. What she brings to the agency isn't a skill but her heart, forcing the others to take the feelings of the client and target into account. If Se-kyung is such a naive girl to interpret romantic gestures as lovethen i doubt someone would approach Cyrano to make her fall in love with them.
All they have to do is just give her a red rose or may be hold an umbrella while it rains Well, in the movie [spoiler? Even after doing all those scenarios to get the girl with the agency's help, the former client ended up cheating on her. The movie pointed out this big flaw of the love manipulation operation.
Meanwhile for now, we get the two leads debating the concept of love and the validity and sincerity of the whole operation She wasn't cheering for Ray or Arang - it was more that she didn't want Arang to give up his true feelings for the sake of the client. She didn't want him to not have a chance. In the restaurant, she was talking about not liking love-triangles because they hurt anyone - she would have felt bad for Ray too had it not gone his way.
In the end, Arang confessed his true feelings and then it was Se-kyung's choice. Se-kyung chose to be with the guy who liked her than the guy who wasn't sure he'd like her enough. In a way, Arang's feelings were as fickle as Se-kyung's - he starting changing his mind about her when she confessed and she started changing her mind about Ray when Ray confessed.
Ray was the only one who liked her from start to end. But I don't think this is abnormal for highschool students. You have to remember that Arang rejected her pretty clearly so she probably thought she didn't have a chance with him. And the basis is faulty for sure, but it gives an opportunity however deceitful its methodsto at least start the relationship. And that might be all the relationship needs.
The person we bond with the most might be someone we would have passed off - we can never know. One of my closest friends is somebody I wouldn't have talked to normally but having mutual friends pushed us together and now I'm really happy that I got to know him. Especially about that last bit. One of my closest friends is literally someone I was forced to sit next to back in high school.
We would've never talked to eachother if it wasn't for that random situation forcing us to spend time together. So what Cyrano agency is doing is making a great start for people, getting people to notice eachother, but nothing more than that.
The rest is up to them. I really liked episodes 4 and 5, especially the scene where Arang confessed to Se-kyung and how that led to the scene after. The acting, music and words spoken were quite beautiful and aw so heart-tugging. I'm pretty sad that this storyline ended. Me too! I also loved the scence when Arang told his true feelings for Se kyung.
Uggh it's so true since it is really hard to determine whether you really have a feeling for someone or you are just carried away by the good things they say and do. Well, Minyoung's problem with men can be that she doesn't give them enough space I was delighted with that, but I guess it makes her soooooo undesirable in male eyes ;P. You absolutely have the right to prefer one over the other but here you're comparing apples and oranges: Cyrano is a rom-com 16 eps of 45 mins and YTBLSS is a family drama 50 eps of 65 mins.
Well, I have to admit that lately I'm enjoying CDA much much more than some selfish mothers in a fight Anyway, I'm enjoying the show more than I expected. It's been awhile since the last time I'm loving all the lead characters in a drama. Minyoung sure is nosy, but still very likeable. On to the mission. She sends him to retrieve Hae-shim, and then Moo-jin locks the door on them after cutting the lights. They decide to wait it out for now, and in the meanwhile Moo-jin takes his grandmother out for some air.
The air in the locked supply room gets stifling, probably more from the tension than anything. Mirroring the scenario is the one in the surveillance van, with Min-young and Byung-hoon feeling similarly awkward and ignoring the reason for it.
Hae-shim admits that the one nice thing about this is that they get to be alone together. She pretends she was fooled by Granny too, and though he seems pretty aware of the ploy, he agrees to stick around. The Cyrano team is dispatched to various areas of the tower to keep an eye on the couple.
Hae-shim takes a look at the thousands of locks fastened by happy couples as little tokens of their love, but the sight makes Chul-soo even more uncomfortable, if possible.
Hm, a painful past experience, perhaps? Or a lost loved one? In any case, he excuses himself with an apology and runs off. Seung-pyo looks to be warming up even more to Min-young after her show of faith in him, and he calls her just as she pulls into the driveway with Byung-hoon.
He invents an excuse to ask her over, while Byung-hoon sniffs in his pettily jealous way. He reminds her of her earlier question, asking if he had anybody he wanted to cook for. I like you very much, not as a teacher, but as a man. Can you accept my heart? Moo-jin follows Chul-soo from the Namsan Tower date and reports back: Mr. Firefighter has a woman. Byung-hoon instructs him to keep tabs on him. Min-young is confused, since her research had him being single for the past few years.
The contact makes them freeze, and Min-young escapes with pounding heart. Aww, yeah. Time to shake up this joint. When I first heard the premise of the movie version, I was all about it, and recall thinking it could make for a juicy romantic drama as well. So when the drama adaptation of the movie was then announced, I was pretty sure there was plenty of story potential here.
I like that we can obviously see the budding attraction between Byung-hoon and Min-young, but because Seung-pyo realized his first and was assertive enough to make the first moveByung-hoon is locked in by his own denial. Slowpoke Denialpants needs some kicking in the rear to actually get the ball rolling. Your email address will not be published. Instead of focusing on the cyrano projects it seems like we got the ball rolling on all our characters yes!
I like how Master is not going to be one of those second leads that watch from afar and mope around because he coudn't get the girl. He's doing everything in his power to get the gal he wants. And then, if he fails. Too bad Min-Young is obviously starting to feel for byung-hoon. Love the symbol of byung hoon loosing his sherlock pendant. The preview made it seem like so much drama happens.
Time to nut up I guess. Previews can be rather deceiving. No drama in this episode. Mostly cute stuff happening, really funny stuff, sexual tension, and lots of heart and good advice for our characters.
Also, a little match-making going on on our own match-makers from arang. Aaaaah so cute. I really like the tone of this drama and the leads have amazing chemistry rrrrrrr.
This show is so exciting now! I just started watching it this week, and am in the middle of episode 9 right now. I have been really enjoying it, and I'm looking forward to how things are going to go down for the rest of the show!
I enjoyed the longer setup, because it didn't really feel like setup that much, and also helped there be more emotions and such involved now that we do get to the actual Cyrano de Bergerac storyline.
I watched that play on PBS a year or so ago, and stuck my tongue out at the ending not a fan of those types of endingsso I'm happy that there's a nice very enjoyable rom-com version of it. The show has been a lot of fun! I was wondering whether fireman Chul-soo knows Master from a previous life since the two thugs in the previous Ep mentioned something about a firefighting squad possibly a gang name?
Yes, Cyrano Agency is one of my favorite movies! It has a very different feel from the drama, but if you can watch it without comparing the two the movie rocks! I think it's really cute.
I would recommend watching it. And Lee Min Jung, if that does anything for you. I totally love the ending and love the twist, and that's an acheivement because I'm the type of person who absolutely HATES twists, but I find myself loving this one!
I'm really curious to as how this would turn out! Who is the restaurant customer who's been hanging around for a few episodes, watching Hye-ri? The ending of episode 10 was a bit sinister, with Seung-pyo leaving Hye-ri alone in the restaurant, making shady customer grin.
This show is so cute, but when I step back, I do have to admit the age difference in the love triangle is bugging me. Since the character of Min-young is so cute and bubbly, not seductive, I can go with it, but really, I'd rather see her with Moo-jin or Ah-rang, not men who should be dating women who are at least 30 or I think that guy must be a gangster.
He's dressed awfully similarly to the guy Master threatened last episode, so he's probably a minion. Yeah, he was really creepy. Glad to know that it's not just me minding the age difference.
I can understand why and go along with it, but really, I'd rather see her with Ah-rang, or even Master although we know that he's second lead material. I'd say Moo-jin as well but he's already had his sights on another girl so Yay the romance is fully blossoming! The awkward stares, the unintentional smiles, the heavy tension And I'm glad with the way the plot is progressing; it's not too fast or too slow so I can believe the romance without pulling out my hair in exration : :.
I actually felt like this was going to be where the story went to since it was obvious from the get go that BH and MY had some serious chemistry going on great job by the leading actorsand that Master was falling hard for MY. This has been a pretty enjoyable ride so far. I hope it continues until the end and doesn't get all angsty. I'm rooting along with you I really like MY with SP.
There's just this tenderness that SP has on his eyes when ever he's with MY. I love the bickering between MY and BH, but in my eyes they're mostly sibling-like relationship instead of anything romantic. Can we have a spin off where the 2nd lead gets the lady?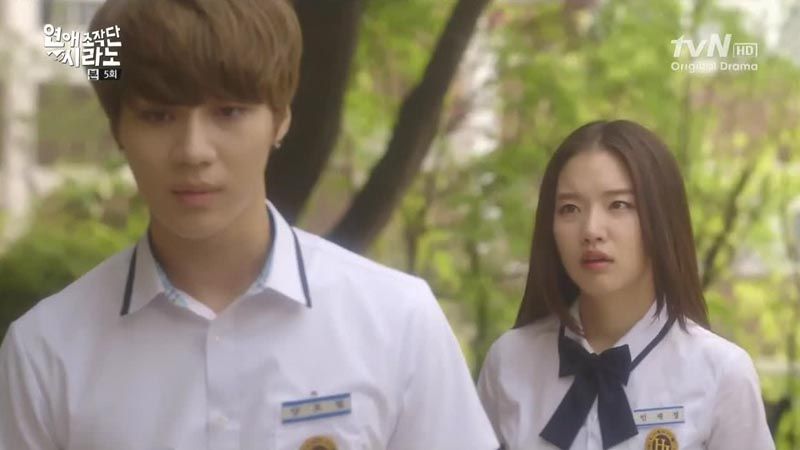 Ok, I'm so with you guys, total Second lead syndrome happening here. I know that Seung Pyo is definitely still shady to the extreme and for all we know, there could still be questionable reasons for his pursuing her, but man when he's with her and giving her that tender look, I swear I melt and forget to question anything If he really is thoroughly sketchy, I'd be sunk.
You girls must like psychos boys! Master is totally NO for me! His smirk makjes me shiver!!! NO WAY!!!! Up until now, I was just watching and enjoying the episodes, but these last two sealed the deal and I'm completely hooked.
I like that the mini cases help the development of the relationships between our main and secondary characters. I love that each one of them feels fleshed out, and have some purpose inside of the story.
Jun 11,   Dating Agency Cyrano: Episode 5 by javabeans. We had to do a little reshuffling in order to appease the fourth dimension, which frankly is kind of being a bitch lately, by the way, and that means I'm taking over recaps for Dating Agency Cyrano.I've been enjoying the light-hearted fizzies that this drama has been steadily doling out, along with the amusing /5.
And I adore the OST. Adore it! In a lot of places I've read that some viewers don't like the age difference between our leads, but I don't mind. I like them together. In fact one of the things I like the most is that their chemistry have been building up slowly and right now, it's sizzling. Also, I love the fact that they are attracted to each other and have been falling for each other at the same time.
Even if they rather be killed that admit so. So, after that awesome ending, let the juicy stuff begin! God knows Byung Hoon needs someone to lit a fire up his ass and provoke him to act. I love that Master is stepping up, too. He's such an enigmatic character. I wonder if Min Young will be fully aware that Byung Hoon is pulling her strings, or if they'll keep it hushed up. I also love the sweet romance between Moo Jin and Hye Ri. They are so adorable, but it's also been a simple and straightforward storyline that doesn't really need much more to it.
Except I'm really worried about that guy who's been flirting with her at the restaurant. I thought he was a cute background character, but now he's suddenly super-creepy. Wow, now that we've finally gotten to the central conflict I don't know what to think, because I like Seung-pyo and Byung-hoon equally.
I don't want either of them to get hurt, but I also want both of them to be happy. But someone's gonna get hurt, and it's probably gonna be Seung-pyo. Poor guy. I really felt for him when he confessed and Min-young let him down. I feel so bad for him. I want him to be happy too! I love that Arang is playing matchmaker on his own, unbeknownst to the rest of the gang. He's adorable. I actually like that it took this long to get to the premise. I just hope it doesn't become all makjangie.
Still don't trust seung pyo but I feel hurt for him. Love triangles always hurt me too. On a side note, I think it would have been also a pretty cool plot had her entrence into cyrano been Master's plan all along as in, Master became a client right before she joined that would have been really interesting. Is it me or the new client with the nurse and firefighter situation not as interesting as the previous ones?
Personally for me, the Kwangsoo case was the best one for me, not even being biased maybe lol. The new mini storyline with the nurse isn't grabbing my attention at all and I don't know if the writers are also on the same page so they decided to throw in Master's jump start confession storyline to amp it up.
You know things got real when inception happens in Cyrano. There are a couple of reasons why: 1 Don't really get to know the client or target 2 No in-depth analysis of the target like in previous episodes 3 Main storyline is ramping up.
I think it was a concerted effort of the PD and writer to put the client-target romance on the backburner to highlight the growing romances of the CDA people MuJin, Byunghoon-MinYoungand I think that's always been the plan going in.
I just wish it hadn't been as abruptly done, but I'm still happy since I was invested more in the CDA people than the clients anyway. Completely agree as to why this week's couple isn't as interesting. I think it's time for Cyrano to breathe and let all its characters develop. But that doesn't mean there's no client for the week. That i appreciate as well. Alot of times the missions just give us more insight into our characters as well as their growth.
Definitely agree that the nurse-firefighter storyline isn't as exciting as the other clients. However, I do see the intention behind it all. I think this client is quite pivotal, being the last ever client of the drama said on news articles. It also provides us with a backbone to Moojin's story and whatnot. The PD's idea is not to make the client the main characters anymore, but have them there to provide a reason to bring the agency members' storyline together.
As for my favourite client, I think Jung Yoomi wins it for me. Short but sweet. Her character's appearance is only an episode long, but has the biggest impact out of the rest of the cameos. Because for her, its not merely a matter of getting together with the person she likes, but she's at war with herself, her insecurities. So getting over that wall was really heartwarming to see. Plus, it shows Minyoung's strengths as a team member of Cyrano as well :.
Oh is it the last client?
Well it gives me a new prospect and hope for it a bit I guess. Also makes me a bit sentimental even if I wasn't too invested in the clients. I was wondering if they were really going to go all out and have a client every week even with the storyline of the agency members. But I'm not complaining that their putting the focus on the agency.
Felar